27 Jan 2021
As we start a new year, and we look forward to 2021. What are the hot topics in the medical imaging realm to look out for?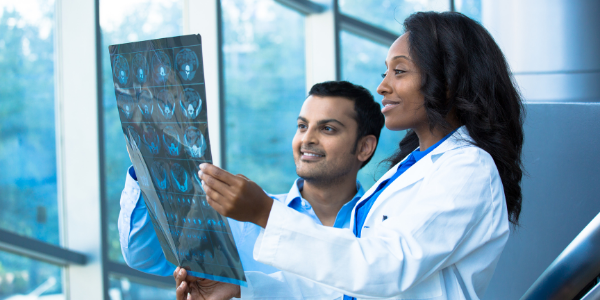 2020 was the year dominated by COVID. In some way or another we have all been affected by the virus and whilst 2021 brings much optimism with vaccine announcements, COVID still presents itself as the biggest issue radiology is facing currently.
A couple of weeks ago we reported that Rishi Sunak, Chancellor of the Exchequer, had announced a financial support package to help ease the growing waiting list in the NHS. Sadly, this will be an issue that continues into 2021 with Professor Chris Witty, Chief Medical Advisor to Boris Johnson, stating the weeks ahead, "will be the worst of the whole pandemic yet." In a radiology sense, this impacts workflow, department readiness and workforce resilience to name a few. The path forward looks to be one of optimising certain departments and prioritising care/treatments. A method that has come into sharp focus over the last few months with many patients missing appointments and life-saving surgery due to the pressures of COVID.
An area that is continuing to grow exponentially is artificial intelligence and machine learning. As Diagnostic Imaging reports, "new applications are coming up to help us improve specific disease diagnosis." AI and machine learning is continuing to improve clinical workflow, as radiologists can augment their performance to become better, quicker, and more accurate. For example, the introduction of the PACS systems made it easier for radiologists to scan and compare medical images. Rather than hanging individual film photos up in a dark room to then be analysed by a team of radiologists. Now, the next big jump is being able to handle thousands and thousands of images, and artificial intelligence is being leveraged to help us take us through the next transformation phase in 2021 and beyond.
3D printing is also a sector with the potential to grow rapidly. There has been major growth in the use of 3D printing in the last few years thanks to success in precision and personalised medicine. The technology has been used since the early 1990s but as we see our medical institutions introduce more technology across the globe, we're able to tailor to an individual, and their anatomy, with custom and patient-specific medical applications. The sector has so much potential that the RSNA have created a huge register that "collects 3D printing data at the point of clinical care." With the goal of improving both patient care and characterizing resource utilization.
Another increasing hot topic is interventional radiology with new technology helping to implement cutting-edge therapies using imaging guidance. Prostate cancer is just one of many diseases where this new technology is being utilised in the form of Embolization, a minimally invasive treatment that blocks one or more blood vessels or abnormal vascular channels. This improves the patient experience massively due to the minimally invasive nature of the procedures but also improving a radiologist ability to diagnose a patient. Expect this to be a much-discussed topic of 2021!
If there is any other topics you feel will become a talking point in 2021, please do not hesitate to get in touch with us and let us know.