15 Dec 2019
How vision technology is playing a role in medical diagnosis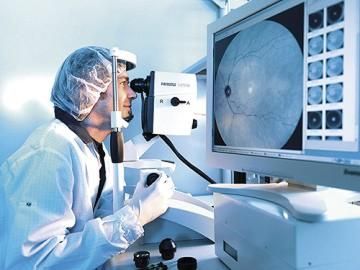 This guest blog is written by Keely Portway, courtesy of our partners Europa Science. Read the original here. https://www.imveurope.com/feature/picture-perfect-health
The latest Ageing Europe publication from Eurostat, the statistical office of the European Union, reports that, at the start of 2019, 101.1 million people in the EU had reached the age of 65. This is the equivalent of 20 per cent of the total population. This is only likely to increase, with a projected 29 per cent forecasted for 2050.
One of the key challenges for healthcare professionals is ensuring accurate, quick and affordable diagnosis. The provision of efficient, effective and, crucially, non-invasive treatment will help to keep older people out of hospital, with the added benefit of reducing the expense associated with personal care. The latest developments in smart optical imaging technology are helping towards non-invasive and unobtrusive health monitoring. The Astonish project was established in 2016 to develop exactly this kind of technology for exactly these types of applications.
Formed under the Electronic Components and Systems for European Leadership (ECSEL) joint undertaking, the project received €5.9m in funding, and spanned six countries. Some 25 organisations took part from across the supply chain, from semiconductor manufacturers to clinical centres testing the final application, with the aim to propose innovations to improve the global competitiveness of the European healthcare industry and deliver technologies that are market-ready to help enhance the longer life of European citizens.
One such organisation is Quest Medical Imaging, which produces camera systems for medical applications, ranging from fluorescence imaging to photodynamic therapy. Its Spectrum system is designed for open and minimally invasive image-guided surgery. It includes a multispectral camera which pictures cancer cells and tissue differences that are not visible to the human eye.
The contrast is created using fluorescence imaging – visualising biological structures with fluorescent labelling. The camera images signals in the near-infrared range. Combining the localisation of specific labelling agents with a true colour image of a surgical site can provide useful information during surgery.
Applications in medicine for systems like this include tumour diagnosis. As tumours manifest and grow the cells start to produce new blood vessels in order to feed their metabolic needs. However, some of these vessels can suffer from low perfusion, which can be picked up by a system like the Spectrum.
It is also possible to diagnose liver metastases using this technology in a similar way, while potential future uses include detecting the sentinel lymph node to improve speed and accuracy in finding the lymphatic channel and nodes. This could also result in the surgeon making smaller incisions and speeding up the entire procedure. Once again, this involves injecting a fluorescent tracer such as ICG into the tumour region, which, used alongside the multispectral camera, allows mapping of the tumour drainage lymphatic system, including nodes and veins. A biopsy of the sentinel lymph node can then be taken for cancer staging.
Translating into real-life use cases, the Leiden University Medical Centre (LUMC) in the Netherlands last year saw a team from its Thoracic Surgery and Surgery departments, alongside the Centre for Human Drug Research, remove a lung tumour, which was detected using fluorescence imaging in what was believed to be the first instance in Europe of using this technique on a lung tumour patient. It had previously been successfully applied to patients with ovarian cancer.
Prior to surgery, the patient was injected with OTL38 – a compound developed by American firm On Target Technologies – consisting of a folic acid-targeting molecule linked to an NIR dye. The compound attaches itself to tumour cells in the body, allowing the surgeon to see the tumour and the possibly affected lymph nodes using Quest's NIR camera. Dr Jerry Braun, cardio-thoracic surgeon at the LUMC, who co-performed the operation, stated: 'Identifying the malignant tissue is sometimes difficult. You can't always see it with the naked eye. You can't feel it during a viewing operation either.'
As well as enabling the identification and removal of malignant tissue, this technology can reduce the chance of discovering, post-surgery, that not all of the tumour tissue has been removed. What's more, the technique actually helps save tissue, so there is less risk and potentially the patient recovers better.
Quest also teamed up with biotechnology firm SurgiMab in 2017 in the latter's development of cancer-specific fluorescent molecules for use in fluorescence-guided oncologic surgery and colorectal cancer (CRC). The partnership formed as SurgiMab was about to begin the phase three clinical trial of its SGM-101 tumour-specific antibody conjugated to a near-infrared fluorochrome.
Phase three is based on compelling results from the company's phase two study, which saw residual and otherwise invisible tumour tissue detected. The study, which was published in The Lancet Gastroenterology and Hepatology, demonstrated that the use of SGM-101 during surgery can lead to a modification of surgery in 35 per cent of patients with recurrent or peritoneal metastases of CRC, either by allowing more aggressive resection of tumour tissue or by preserving healthy tissue. Quest agreed to provide 12 Spectrum platforms to those medical centres participating in the trial.
Phase three was designed after discussions with the US Food and Drug Administration (FDA), alongside other regulators. The trial aims to enrol 300 CRC patients in 10 clinical centres across Europe and the US to assess the safety and clinical benefit of using fluorescence-guided surgery with SGM-101 as an intraoperative imaging agent to better identify cancer lesions during the surgical procedure. Patients are injected with 10mg of SGM-101 four days prior to the scheduled CRC surgical procedure
The first US patient has recently been recruited into this important phase, with four US facilities currently taking part, including: Cleveland Clinic Florida, Massachusetts General Hospital, Moores Cancer Center and the Abramson Cancer Center of the University of Pennsylvania.
SurgiMab is optimistic about the results of this next phase, as expressed by CEO Dr Françoise Cailler: 'If this trial successfully demonstrates that the use of SGM-101 improves tumour resection, we believe that this could provide a new approach for close to 150,000 patients diagnosed with CRC every year in the United States, most of whom undergo surgery.' Preliminary data is expected next year.