14 Oct 2019
Philips Deliver UK's First Helium Free MRI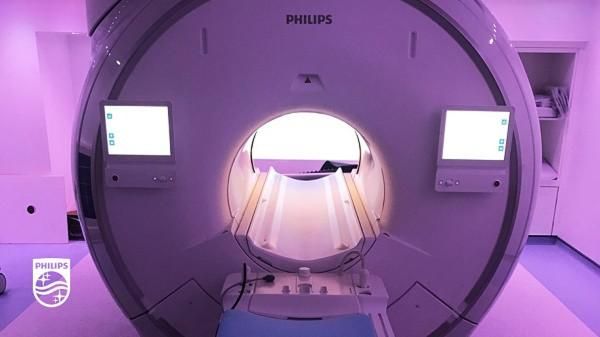 Medical Imaging Convention Headline Sponsors Philips have launched a UK first, with their Ingenia Ambition X 1.5 MR offering the UK's first helium free MRI. The world is facing a global helium shortage, with prices skyrocketing as supply decreases.
Liquid helium currently plays a crucial function in most MRI machines, cooling down the machine all the way to -270° celsius. It is one of the coldest substances ever discovered, so finding a replacement has been a major challenge for MRI manufacturers.
This is why Philips have developed Helium-Free BlueSeal technology, saving an enormous 1,700 litres of liquid helium per machine. If this technology is distributed across the NHS it could cut costs by over nine million pounds, while reducing the overall resource footprint of the service.
With helium still in constant use despite a worsening global shortage, MRI manufacturers need to develop innovative solutions like this one, or be left with non-functional machines. MRI machines make up a large portion of the world's helium usage, so the pressure has been on to innovate in the last few years. Poole Hospital are leading the way by being the UK's first to recognise this issue by implementing Philips' Ingenia Ambition X system.
The Ingenia Ambition also uses Philips' Compressed Sense technology, which can cut scan times in half. Reducing scan times provides a major benefit to MRI services, both by reducing patient discomfort, and allowing more patients to be scanned every day.
Simon McGuire, Philips' UKI health systems lead said "The MRI was invented in the UK, so it's fitting that today the UK is introducing another imaging first at Poole Hospital NHS Foundation Trust.
I am proud that we can offer this breakthrough technology that not only supports more patients in getting the care they need, but also does so in such a way that enables greater respect for the limited resources on Earth
Philips has long been committed to making the world both healthier and more sustainable through meaningful innovation, and these values come together in the Ingenia Ambition X."
Sustainable MRI is going to be an increasingly pressing issue within the medical imaging industry over the coming years, and technology like this will make for a better imaging experience across all areas of healthcare. If you want to stay at the forefront of this critical medical area, sign up for the Medical Imaging Convention to see Philips showcase their latest technology, which will be crucial to the future of medical imaging over the next few years.